Everything is virtual this year – and Smartsheet ENGAGE was no exception.
ENGAGE 2020 is the fourth annual user conference held by Smartsheet. It's the first place they showcase new products and features – to help you gain an edge over the competition.
Not even the COVID-19 crisis could damper the outcome of this event. Nearly 40,000 people participated in the live conference, not to mention the on-demand view counts. Each user engaged their imagination – how could you not after seeing Pip Hare's adventure? Or after learning about Roche's Smartsheet story, where innovation enabled timely care for millions of patients?
The people, stories, and products worked together like a well-oiled machine to embody the core values on which Smartsheet thrives: effective teamwork powered by collaboration.
So – what's new with Smartsheet? You can dive into the details below.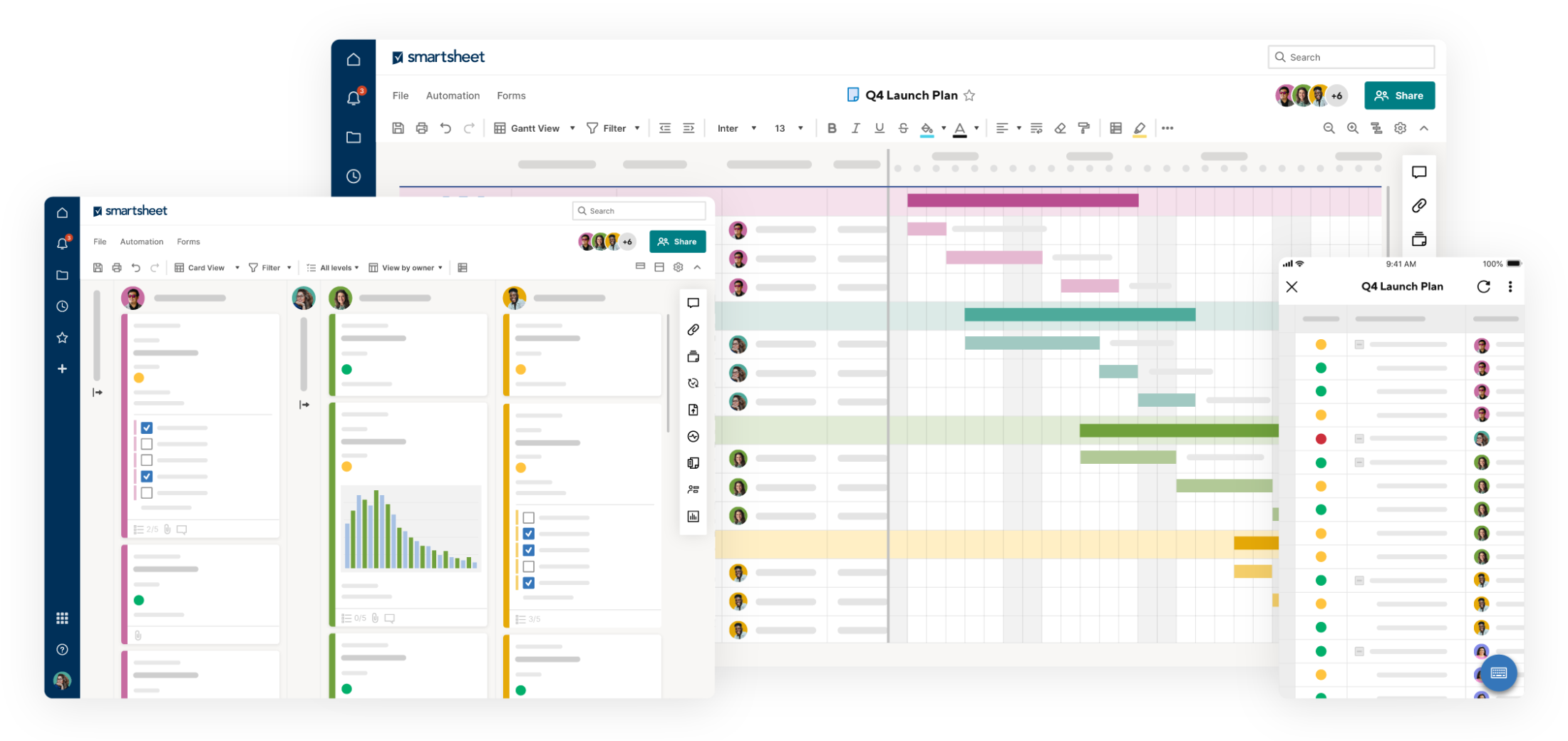 The Latest from Smartsheet
Like most modern tools, Smartsheet is constantly looking for new ways to drive innovation. This year, they're making major updates across three core categories: interface, marketing solutions, and the way businesses work.
Interface. First and foremost, Smartsheet is upgrading their platform. Soon, they'll release a modern interface update designed to solidify the brand as a true enterprise solution. This enhances both the look and experience of the tool in a major way – from sign-on to sign-off. For example, dashboards are redesigned with a fresh, modern look. Navigation becomes a breeze – along with editing. Colors are expanded to a full hex pallet, while the new Report Builder offers consolidated data updates. To top it off, the platform is faster than ever…and these are just a few of the upgrades we'll see.
Content Collaboration. Recently, Smartsheet has been making a major push toward content collaboration. This allows users to proof and edit documents within Smartsheet – perfect for both business users and marketing teams. They have enabled integration with Adobe Creative Cloud – again, a huge benefit for marketers. Plus, later this year, their platform will support 50 new file types, including video. All of this begins with enabling Office 365 products to be edited in app: including Word, PowerPoint, and Excel. This fits into other areas they are enabling that will support all users with the acquisition of Brand Folder, a digital asset management solution. Another key highlight is the release of a tool called "Document Builder," which allows customers to create pdfs directly from sheet data.
Business Processes. Smartsheet ENGAGE 2020 brought the preliminary release of WorkApps – making solution organization and management easier than ever. WorkApps perfectly complements Smartsheet's line-of-business focus, as they continue to solve other collaborative workflow management problems. IT departments can now focus on other tasks, as Smartsheet allows connecting apps to trigger events with no-code development.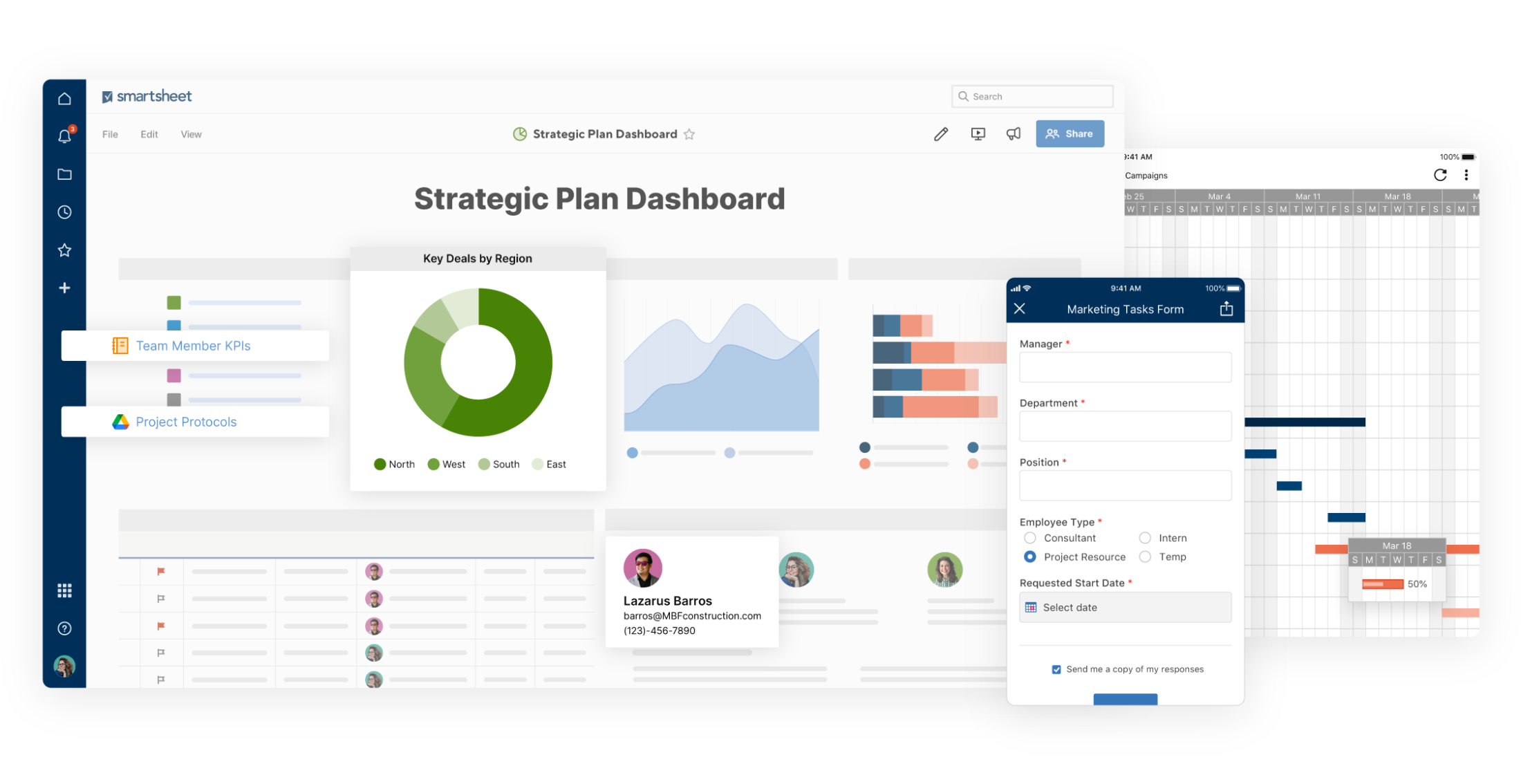 What Do These Changes Mean for the Market?
It's a fair question – these major organizational shifts position Smartsheet to be more competitive in both current and new markets.
Marketing is top of Smartsheet's mind, especially with their focus on content collaboration. Their latest updates may give them a leg up against this competition, which is no small feat when facing companies like Trello, Wrike, and Asana. However, content editing updates are just a few examples of where Smartsheet can excel for both marketers and business users – they also have their modern interface update coming soon. Pair these changes together, and Smartsheet is armed and ready to take on the competition.
It's also important to consider the public sector. Smartsheet Gov is Smartsheet's FedRAMP certified collaboration tool. Since then, they've continued to invest in compliance – they've achieved DISA Impact Level 4, FedRAMP Moderate, and ITAR compliance. These investments pay off – Smartsheet can now go after both government work and commercial companies with government contracts. Plus, every year they plan to migrate commercial features and functionalities to their government platform. As one of the few cloud-based collaboration tools equipped with these compliance requirements, we should see them continue to make major strides with government work.
Watch Smartsheet ENGAGE 2020 On Demand
Don't worry if you missed the event – you can watch the presentations here. To watch the recorded sessions, you will need to register first (it's free, and definitely worth it).
As a proud Smartsheet Platinum Partner, we enjoyed this event from start to finish. Our team continues to grow every year with the information and inspiration from this conference. In fact, we've created more Smartsheet solutions, with more customers, than ever before.
Have any questions? Or just want to learn more? Reach out to us here – we're more than happy to help navigate this space.
Stay ENGAGED – go watch the conference!